The Embedded Insurance Travel Report:
Research shows Brazilian travelers desire embedded protection and improved claims experiences in a post-pandemic world
The COVID-19 pandemic of 2020 has drastically changed the face of travel, placing protection at the forefront of every travelers' mind who is considering stepping out again and for the airlines and agents who have to successfully deliver safety in a time of unprecedented risk.
Our case study, Protection and the Pandemic, which examined post-COVID attach rates across our network of partners, demonstrated that travelers are opting to add protection at a rate 6X higher than at the start of the pandemic, forcing the industry to rapidly adapt. 
Travel insurance is no longer an after-thought but a must-have, and not only that, it must now be fit-for-purpose, ready to serve and encourage travelers through protection that covers all manner of uncertainties and 'what-ifs.' Our insurtech approach of customized and embedded insurance products has produced a noticeable uptrend in attach rates, backed by innovations like Covid Cover that can be fed into modern platforms, devoid of the legacy systems that crimp traditional insurers, and made available to our partner network which includes Booking.com, Icelandair, Skyscanner, Hopper and more. 
With a change in customer expectations and a demand for genuine protection that responds to the times, it is imperative that travel providers capture the moment by extending their relationship beyond travel safety to a more holistic outcome that delivers —complete lifetime protection.
Our breakthrough research report in Brazil and 19 other countries shines a light on how travel providers need to move quickly to overcome archaic insurance solutions that are intentionally built to undermine customer satisfaction in favor of insurer margins. While these programs deliver a post-claim NPS of -9, Cover Genius — backed by a seamless journey that seeks to transparently protect its customers — delivers a post-claim NPS of +65‡, thereby ensuring loyal, happy customers who are thankful for the care and support of the airline, provider or agent in their time of need.
The Brazil report, titled "A consumer-focused survey on claims experience and embedded offers for the travel industry," commissioned by Cover Genius and conducted by Momentive.ai, is a census-balanced survey of 500 Brazilian consumers who have traveled domestically or internationally since March 2020, and have made a pandemic-related claim.
The survey asked travelers where they last got travel insurance, and where they would prefer to get it in the future. The research revealed that 28% of Brazillian travelers intended to switch to an alternative channel: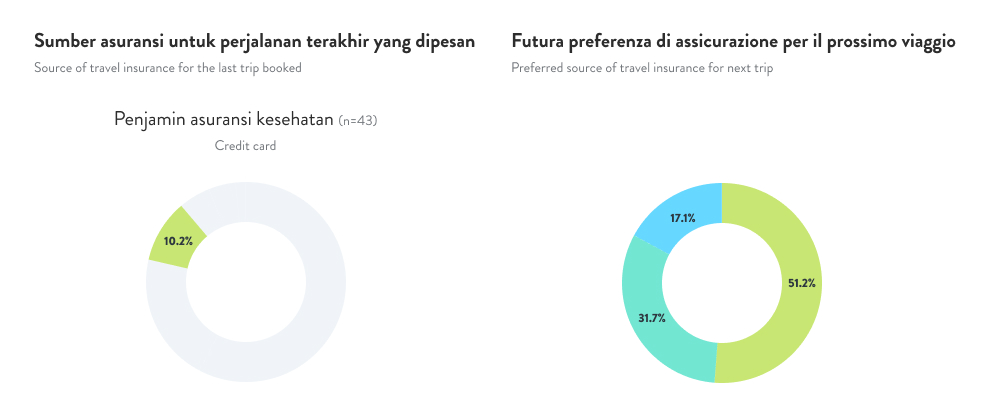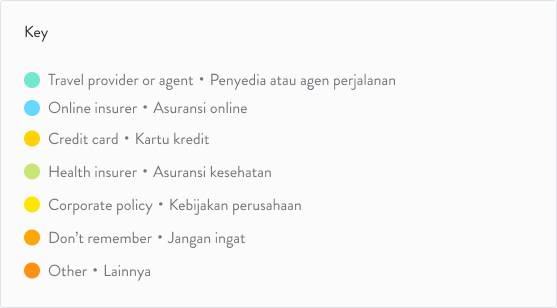 A majority of respondents wish to get their insurance via their booking agent in the future (growing from 45% to 49%). 79% of those who purchased from a health insurer said they would switch to another insurance source. Of those who purchased insurance from their travel provider or agent, 75% would purchase again from their travel provider. 
These figures are hardly surprising given what we know about consumers' desire for embedded insurance offers from companies they trust. Travelers are more aware than ever of the need for protection when considering a trip, and who better to offer it to them than the providers they book directly with? 
The study sought to understand the favorability of embedded insurance options from alternative sources including insurance from credit cards, corporates and direct online insurers:
Embedded insurance solves for underinsurance and dissonant claim outcomes by removing the need for disconnected steps, focusing on the customer journey and putting customers rather than insurers at the centre of the experience. As with our earlier studies into embedded insurance in the Retail and Banking/Fintech industries, customers universally chose 'convenience' as the main driver for their willingness to switch to embedded options.
An embedded approach presents customers with protection customized to their itinerary at the right time and place in the booking path, answering their need for peace of mind then and there without the need to rely on insurance policies that seek to avoid payouts or require archaic processes to do simple things like add Covid coverages or file a claim. The data shows a strong correlation between dissatisfaction and analog processing.
The study also sought to understand travelers' expectations when purchasing insurance for pandemic-related concerns:
The findings show that 27% of Brazilian travelers were not covered, despite obtaining a policy that had pandemic-related coverage. This gap shows that though travelers are desperately seeking peace of mind on their bookings, traditional one-size-fits-all insurance misses the mark on the new types of scenarios they need coverage on. To improve satisfaction and bring a future-ready model for customer-centricity, there's a clear need for the entire industry to reconsider what protection means.
As the final pillar of the customer experience, that's typically delivered by traditional insurers, the research also looked into the claims experience, asking a series of questions about the claims reporting process, time to settle the claim and overall NPS.
Brazilian travelers rated their post-claim NPS at -8, with credit card insurance programs delivering post-claim NPS measuring -15 versus online insurers (-6).
In comparison to Cover Genius' NPS of +65‡, it is evident that much is lacking for customers of the travel industry, which in the all-important recovery phase as travel opens up worldwide post-pandemic, needs to be addressed to restore confidence and trust in the industry. Travel providers of all sizes need to ensure they step up to protect their customers, in every sense of the word, thereby answering what their customers will need in a digital world where customers align their purchase decisions to their favorite digital companies. 
Technology-led solutions by insurtechs ensure travelers are covered in these 'black swan' events, providing the agility to rapidly create fit-for-purpose solutions. In addition, automation of the claims process through instant payments highlights the peace of mind travelers are looking for in a post-pandemic world.