From 20 days to 24 hours†: Reducing claim processing for Descartes ShipRush
MAKING A COMPLEX CHAIN SEAMLESS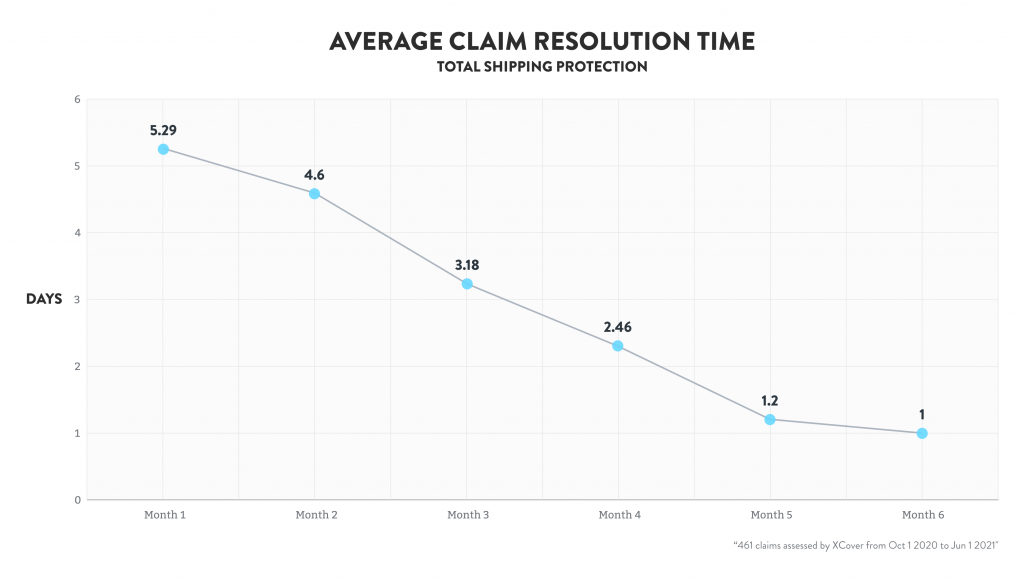 As shown above, our focus on building automation features into our fully configurable XClaim platform and ongoing product filings allowed us to quickly iterate. Our bespoke insurance program also removed historical anomalies prevalent in the industry like static, tiered pricing, exclusions on electronics, insufficient coverage limits and, most importantly, Total Shipping Protection excises carriers from the claims process. Waiting for insurers to declare a loss takes close to 20 days on average, time that merchants prefer to spend on important stuff like packing more boxes. Removing carrier friction also allows us to optimize pricing—with overheads minimized, the savings flow back to Descartes ShipRush and their customers.
Our simplified carrier-agnostic approach, coupled with our XClaim technology that's licensed or authorized in 60+ countries and 50 US states enables logistics partners, from marketplaces to 3/4 PLs, software providers, freight forwarders, e-commerce platforms and all modes of transport, whether small parcels or International Air & Sea freight, to offer a wide range of custom coverages like porch piracy, general average, liability and delivery failure to suit their customer needs.
With Total Shipping Protection, Descartes ShipRush also earns their shippers' trust with filed products that are backed by some of the world's largest insurers. Working with a panel of agile insurers means additional coverages have been easy to add over time, for instance, Total Shipping Protection also covers shipping costs plus the item cost, rather than a traditional warranty product based on Declared Value which leads to underinsurance and dissatisfaction. NPS scores of +65‡ are also delivered on the back of generous coverage limits, a zero deductible, a minimum order value of $1 and coverage for return shipping and reshipping. 
This ensured Descartes was able to capture the previously unaddressed carrier market.
Working with Descartes ShipRush we built an education and awareness program to back up leading edge growth marketing techniques. The customer journey ensures high take up and minimal churn while causing no interruption to merchant activity.
Total Shipping Protection is promoted via EDMs, call centers and other joint marketing activities and via an API-connected modal that allows users to opt-in with a single click from anywhere—a much better experience than fiddling with a buried account setting.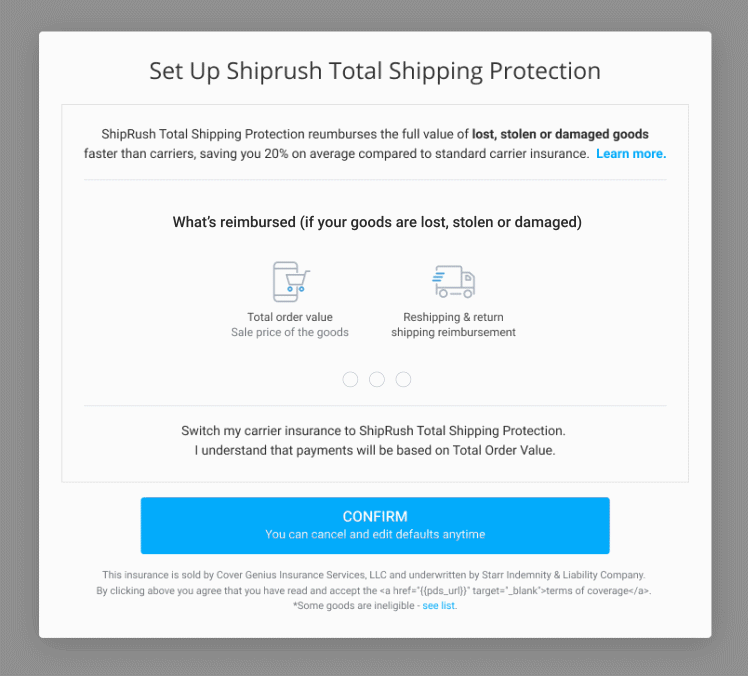 As a partner with a global reach that covers 60+ countries and across 50 US states, we will continue to empower Descartes ShipRush to grow their business and turn insurance into a profit center. Our ability to distribute multiple protection products through a single integration enables Descartes to grow into multiple product lines (such as LTL/FTL movements, Air and Sea Freight and also product warranties), while access to data analytics through our BrightWrite optimization platform enables a continuous optimization so we can improve and refine products over time.
† Cost savings are based on a comparison of all Cover Genius shipping protection versus published carrier rates for Fedex, UPS, DHL, USPS, UPS, Old Dominion, DHL, XPO Logistics, Estes Express Lines, YRC and TForce Freight as at June 27, 2022. Time savings are based on average resolution times (i.e. the duration from initial filing to completed payment) for all XCover shipping protection claims as at May 31, 2022 (sample size = 868) compared with the industry average time including payment settlement (min. 6 days) and period to acknowledge a filed claim.
‡ The score includes any type of claim and claim outcome across our partner network except for those partners with less than 30 claims and those not assessed by Cover Genius.