protection for
global travelers

Our award-winning global distribution platform XCover enables travel companies, airlines and OTAs to offer tailored protection for anywhere a customer is traveling to or from, dynamically bundled and unbundled.
XCover builds customer loyalty for the world's largest digital companies including Booking Holdings, Ryanair, Skyscanner, Icelandair, Uber, Agoda, Etraveli, TourRadar, RMS Cloud, Despegar, Hopper, Luxury Escapes, HomeToGo, Ola, Volaris, Spirit, and more. Our end-to-end offerings include solutions like 'Cancel for Any Reason' protection that leads to higher revenue and happier customers and, as well as instant claims payments in 90+ currencies.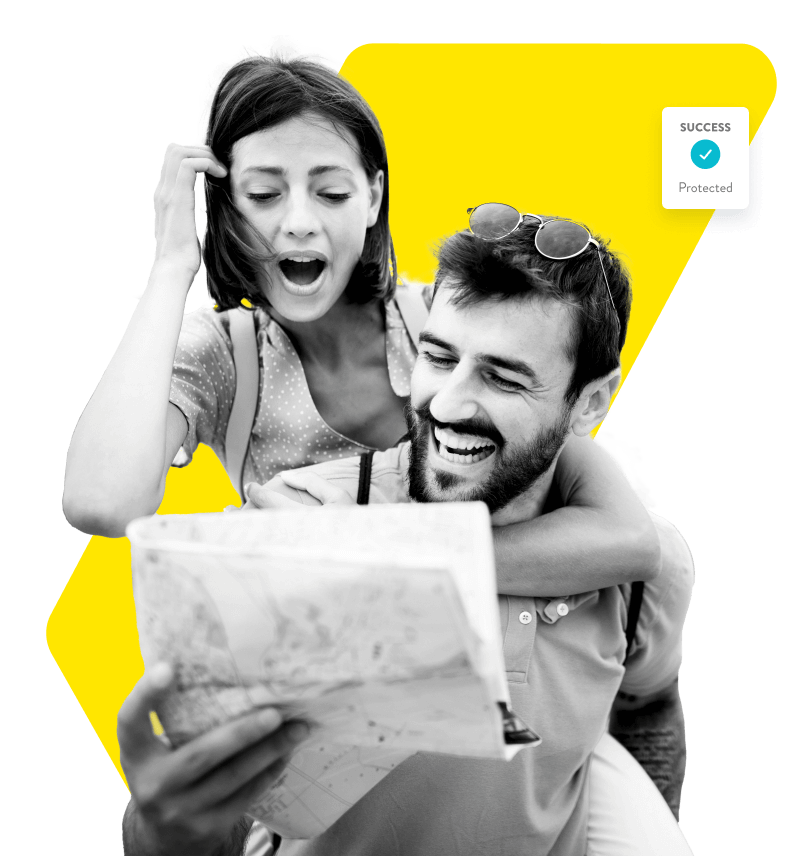 A NEW MODEL OF PROTECTION
It's simple — no two trips are created equal and travelers can have drastically different needs. The "one size fits all" model used by traditional travel insurance providers didn't allow this, so we flipped that model on its head.
We've unbundled travel insurance and built a dozen products for any market, so there's flexibility to dynamically tailor protection to any customer's itinerary or destination — or let them choose themselves. XCover's data analytics service, BrightWrite, works behind the scenes to optimize the offering based on the customer's behavior and history.
And with an industry-leading NPS of +65‡ and around-the-clock emergency assistance and rescheduling, we're keeping travelers happy even when things go wrong.
HOW XCOVER BRINGS VALUE TO YOUR BUSINESS
Our unbundled protection lets our travel partners choose the protection their customers actually need for any source market or destination. That could mean our Airline Collapse Cover for the wary flier, emergency medical assistance for an extended stay, personal electronics cover for short-haul business travelers, or rental car excess for a weekend road trip.
Our BrightWrite data analytics platform collects and transmits information from the booking path to make hyper-relevant product recommendations optimized for price. With a data-driven approach to upsells and cross-sells, partners and their customers alike benefit from tailored products and protection for individual traveler needs rather than the whole kit and kaboodle.
Since we're licensed or authorized in 60+ countries and all 50 US states, our platform is just the ticket for digital travel companies and their global customers. Through our XCover API, we're able to handle claims processing in 40+ languages and 90+ currencies in the form of bank transfers, e-wallet transfers, credit card top-ups and more. With instant claims payments backed by a post-claims NPS of +65‡, you'll see satisfied customers and repeat business.
Travelers need personalized protection that makes sense for their journey. Not only does XCover provide a range of policies that can fit any type of experience, it also powers relevant solutions such as Delay Valet, which provides parametric protection based on real-time flight data, as well as Cancel For Any Reason (CFAR) protection for extra peace of mind when booking.
We enable our partners to offer their customers confident booking with Cancel For Any Reason (CFAR) protection, giving travelers the freedom of knowing they'll receive a full refund if they need to miss their departure — for any reason. CFAR covers everything from illness to public transport disruption to extreme weather.  With travel providers enjoying a 30-point higher average NPS when customers book airfare with CFAR protection compared to non-CFAR, you'll be their saving grace if their trip goes awry, building trust and loyalty and giving them even more reasons to book with you again.
PROTECTION FOR EVERY PART OF THE JOURNEY
From a canceled flight in Kathmandu to a stolen iPad in Istanbul — when things go wrong, generous policies and a speedy claims process will keep your customers happy. Our tailored offerings are dynamically served from the XCover API to give your customers protection for everything they need, including:
24/7 medical assistance, emergency care & repatriation from anywhere, by leaders in the field
Generous benefits for carers
Electronics cover for travelers
Protection for baggage & valuables if they're stolen
Cancellation & COVID protection
Inclusions that are dynamically generated by the XCover API based on itinerary details 
Cancel For Any Reason protection for flights, accommodation, car rental, cruises, tours, and more
Delay Valet, our proprietary solution that pays out instantly when flights or bags are delayed
Missed connection and missed flight protection
Airline Collapse Cover covers customers for the cost of their flight if their carrier goes into liquidation before or during their trip
Sports protection add-ons to cover golf, watersports and other adventure trips
Cruise packages including cancellation, cabin confinement, emergency evacuation, missed departures, missed port connections, missed shore excursions and curtailment
Get in touch and discover how our global insurance platform can help grow your business.