protection for
global travelers

Our global insurance distribution platform enables partners like Booking Holdings, Ryanair, Skyscanner, Icelandair, Agoda, Etraveli, TourRadar, RMS Cloud, Despegar, Hopper, Luxury Escapes, HomeToGo, Ola, redBus and more to customize, add-on, and embed insurance that's fit for the times and suitable for any customer going anywhere for any reason.
XCover enables any travel business to reach their global audience with world-first features including tailored pandemic inclusions and "atomized" coverages that can be dynamically bundled and priced optimally via the patent-pending BrightWrite data analytics service.
Enhanced protection, end-to-end insurance and a microservices architecture means the world's largest travel companies are benefiting from attach rates that are 6x higher while customers enjoy being the center of the whole experience, as evidenced by a chart-topping post-claim NPS of +65‡.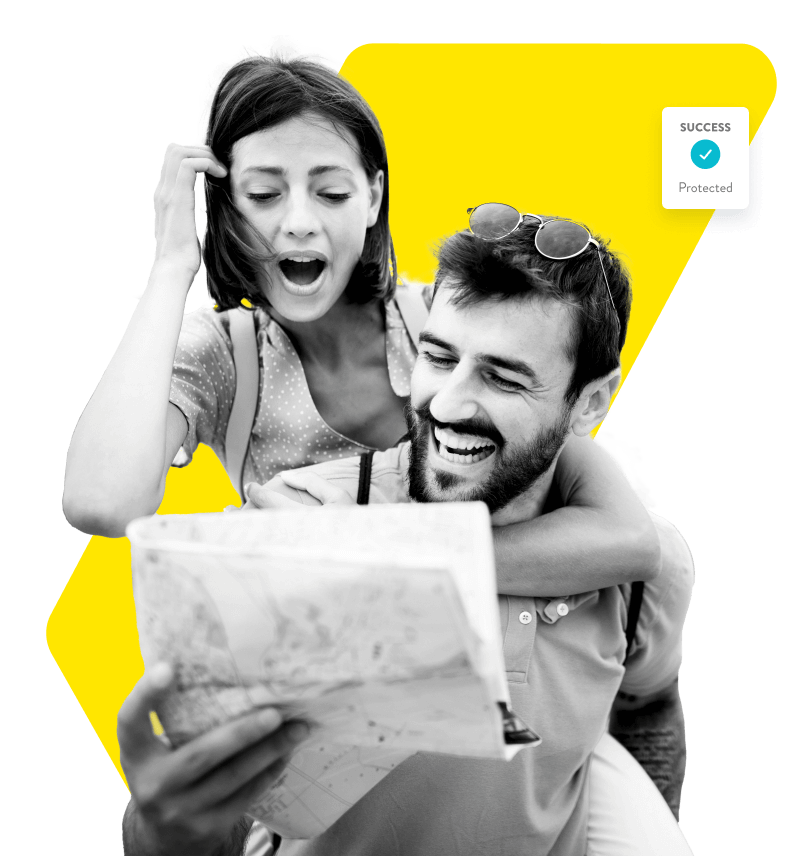 It's simple – no two trips are created equal and travelers can have drastically different needs, especially in this post-pandemic world where there are more safety concerns than ever to consider. The "one size fits all" comprehensive insurance model used by traditional travel insurance providers didn't allow this – so we flipped that model on its head.
We've unbundled travel insurance and built a dozen products for any market, so there's flexibility to dynamically tailor insurance for any customer's itinerary, or let them choose themselves. For the dynamic solution, our BrightWrite data analytics service works behind the scenes to optimize the offering based on individual behavior and history.
And with an industry-leading NPS of +65‡ and end-to-end emergency assistance and rescheduling, we're keeping travelers happy when things go wrong, and keeping call center operators happy if things go really really wrong.
INSURANCE THAT'S FIT FOR ANY PURPOSE
Our unbundled insurance lets partners like Booking Holdings and Skyscanner choose the protection their customers actually need. That could mean our "Airline Collapse Cover" for the wary flyer, emergency medical assistance for an extended family celebrating Gran and Pop's 50th wedding anniversary, personal electronics cover for short-haul corporate travelers, or rental car excess/deductible waivers if you're off for a weekend road trip.
DOUBLING DOWN ON HAPPINESS WITH AN NPS OF +65‡
We all know that it's claims where "the center cannot hold" so we built XClaim with speed in mind, meaning partners can configure instant claim payments for 90+ currencies as bank transfers, e-wallet transfers, credit card top-ups and more. You can also brand the experience as your own, so in a time of need, yours is the helping hand.
While traditional insurers rely upon all-in-one coverage, paper forms, and checks to deliver NPS below zero, XCover's customization and control – coupled with XClaim's instant payments and BrightWrite's optimization – is delivering NPS of +65‡ to millions of customers of the world's largest travel companies.
WHITELABELS BEYOND JUST BOX CHECKING
We all know of whitelabels that punch above their weight because the in-path offers, erm, need work
. 
Our data-led and user-centered design approach makes whitelabels compelling and then drives cross-sells and upsells like our proprietary "Global Doctor" and Pre-Existing Medical for those who earlier said "No" to medical coverage, or rental car excess and hotel cancelation for those whose itineraries were previously unknown, all backed by BrightWrite's experimentation engine. 
Our whitelabel service is fully brandable as your own and XCover's webhooks pass back booking updates to your GDS, CRM, or other reservation software, meaning support gets one step closer to the holy grail!
MAXIMIZE SECOND CHANCE SALES
Our data-centric approach also extends to retargeting. Our shared goal is to convert second-chance sales via any channel including booking consoles, emails, call centers, res systems, whitelabels, apps, mobile websites and more.
DYNAMIC PRICE & PRODUCT RECOMMENDATIONS
For product recommendations, our patented BrightWrite service adapts based on a customer's historical decisions, so rather than offering the same thing every time, the offers become more personal, more complementary and higher converting. Those offers can show in your booking path but equally in any other touchpoint including our whitelabels.
INTEGRATE QUICKLY TO FILL A GAP!!
Our stress-free set-up process means you'll be ready to go in no time with a RESTful API that's ready to integrate into your booking path. You can also work with our team on price and product experiments that you can run on the BrightWrite data analytics platform.
TREK TO TECH - INSURANCE FOR EVERY ITINERARY
From a canceled flight in Kathmandu to a stolen iPad in Istanbul – when things go wrong, generous policies and speedy claims will keep your customers happy. Our tailored policies and benefits are dynamically served from the XCover API to give your customers protection for everything they need and nothing they don't.
Your customer's peace of mind is delivered for every part of the trip including:
24/7 medical assistance, emergency care & repatriation from anywhere, by leaders in the field
"Global Doctor", our proprietary product that ensures anyone needing medical advice can receive it 24/7 in any language
Generous benefits for carers
Electronics cover for travelers
Protection for baggage & valuables if they're stolen
Cancellation & COVID protection
Inclusions are dynamically generated by the XCover API based on the itinerary details that you send us.
Cancelation and curtailment protection for flights, accommodation, car rental, cruises, tours and more
"Smart Delay", our proprietary product that pays out instantly when flights or bags are delayed
Missed connection and missed flight protection
"Airline Collapse Cover," covers customers for the cost of their flight if their carrier goes into liquidation before or during their trip
Sports cover add-ons to cover golf, watersports and other adventure trips
Cruise packages including cancelation, cabin confinement, emergency evacuation, Missed departures, Missed port connections, Missed shore excursions and curtailment.
We're winning Travel Insurance awards:
Get in touch and discover how our global insurance platform can help grow your business.