How Rhino achieved a 7X increase in add-on sales by revolutionizing protection with XCover
Watch the demo.
Rhino's mission is to make housing more affordable for renters while ensuring property owners have what they need to operate sustainable businesses. To help ease the financial barriers that stand in the way of securing rentals, Rhino gives flexibility to eligible renters by allowing them to pay for a low-cost insurance product instead of a large upfront cash security deposit.
The need to digitize protection
To further their mission, Rhino saw it as a natural next step to provide accessible protection for renters alongside their flagship security deposit insurance offering. Rhino needed an API-based partner native to their environment that could replace their "link out" solution which was driving traffic to their insurance partner's website for a fee, but the link out solution delivered an underwhelming result. 
Rhino found the link out model perpetuated the "second step" problem that bedevils "direct to consumer" insurance. The added friction meant a significant dropoff in sales and limited Rhino's ability to achieve their mission: fewer renters were covered for emergencies and incurred high out-of-pocket costs to replace or repair their belongings. Renters represent one of many groups that are impacted by a national crisis of underinsurance in the US that stems from inefficient insurance distribution.
The Property Embedded Insurance Report conducted by Momentive.ai and commissioned by Cover Genius reveals similar patterns: homeowners, landlords and renters will switch to embedded protection at the cost of traditional insurers, with convenience being the key driver. The report also found that 72% of US homeowners, landlords and renters were not offered protection during their application process, demonstrating a significant opportunity for property players like Rhino to step in and satisfy renters' needs.
By integrating with Cover Genius' XCover platform, Rhino was able to provide embedded protection directly in the sign-up path, as a high-impact and high ROI solution for the thousands of renters that join their service every week. The solution also addressed the emerging trend of apartment owners requiring their renters to secure their own insurance. 
The impact was immediate. Once rolled out to 45 states, the new "Rhino Renters Insurance" solution generated a 7X increase in add-on sales and a 259% increase in conversion rates versus the link out model.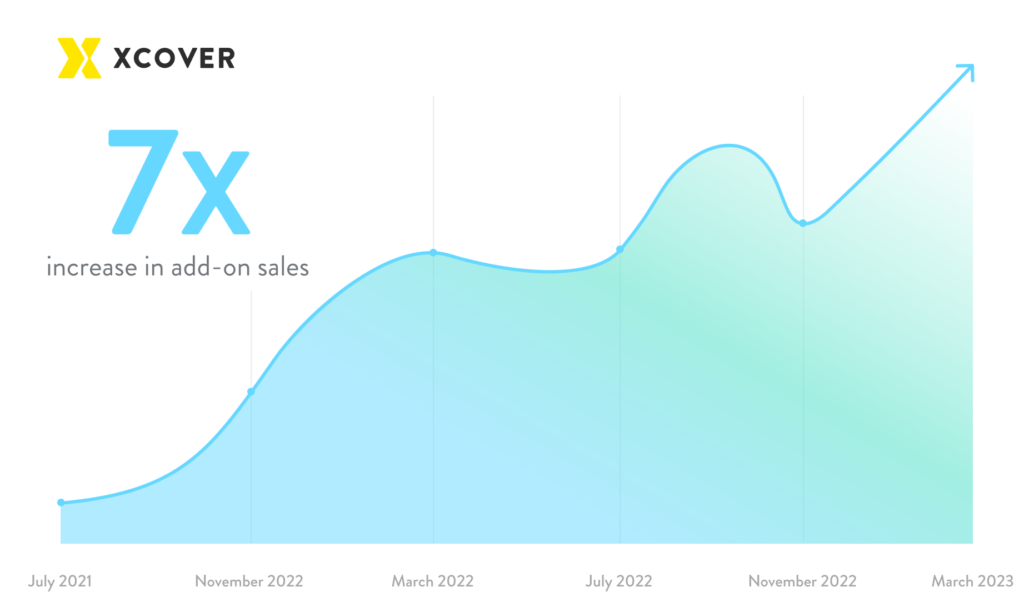 Chart showing the increase in add-on sales by 7x in the period July 2021 – March 2023
Customer-centric XCover protection lifts customer acquisition  
The Rhino and Cover Genius teams worked together to develop a solution that leverages XCover's bundling feature to optimize capture rates and revenue while producing a seamless experience. 
This integration with XCover, our award-winning global distribution platform, embeds protection directly into the lease application and sign-up process. This gives renters the freedom to purchase all the protection they need in a "one-touch" hassle-free experience. Renters then have the option to manage their security deposits and renters insurance through an easy-to-navigate account management dashboard.
Our technology utilizes stored customer data such as addresses and lease terms throughout the entire journey to generate instant quotes to make the purchase journey customer-centric. Additionally, A/B testing and collaborative design experiments are performed to optimize conversions and tracked via the BrightWrite analytics platform.
Boosted customer retention through flexible protection 
As part of Rhino's commitment to smarter and more affordable solutions, we give renters the option to purchase protection plans that best suit their financial means. They can choose to opt into an annual policy or pay through smaller monthly installments, both with automatic renewals so they can enjoy uninterrupted protection.
Chart showing renter's preference for monthly over annual protection plans for greater accessibility
By offering renters greater flexibility, Rhino has seen a significant opt-in rate for the new monthly policy option, which accounts for 70% of total protection chosen by renters, while the annual option makes up the remaining 30%. With near-perfect renewal rates for those who remain renting their properties beyond the first year, the proptech leader is able to keep their renters happy and boost customer retention all while enjoying new recurring revenue.  
Frictionless claims experience, happy customers
Our Property Embedded Insurance Report further illustrated the poor claims experiences produced by traditional property insurance, as shown by an average Net Promoter Score of -3. 
With XCover, Rhino not only provides a seamless and tailored experience for renters but also offers a simple and efficient claims journey, as evidenced by our post-claims Net Promoter Score of +65‡ - a score that far surpasses the industry average. If there's damage to their apartment and belongings, for instance, they can submit a digital claim through the XCover dashboard — it takes just a few minutes to submit claims without having to fill out any tedious paperwork. The dedicated team ensures a fast and smooth claims process for customers with claims service available 24 hours a day, 7 days a week.
Through Cover Genius' XCover platform, Rhino created a renter's insurance product that perfectly pairs with their affordable security deposit plans, furthering the former's brand promise while delivering ultimate peace of mind for its thousands of renters in case the unexpected arises. The partnership comes at a pivotal moment in the property space where consumers are highly interested in embedded property protection that is personalized, with convenience being a key motivator.